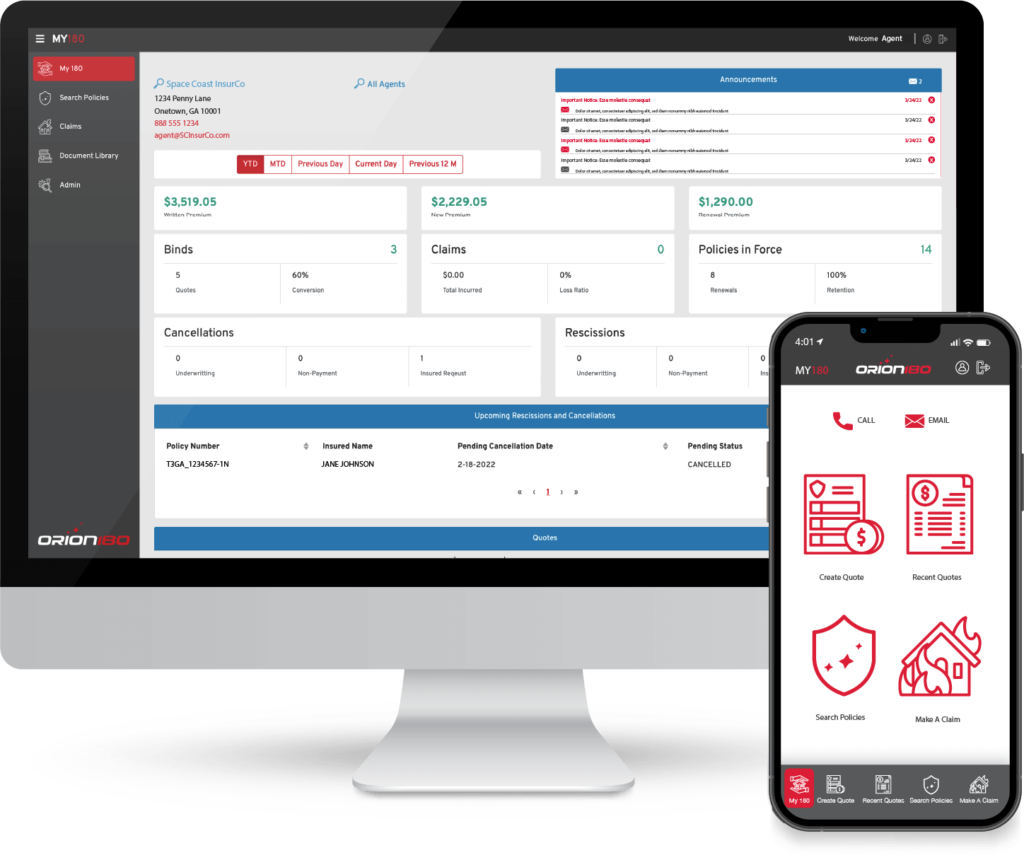 Managing policies from your office is the past. Managing policies in the palm of your hand is the future, and the future is here. Our proprietary technology allows you to quote and bind from anywhere, as our intuitive app for both IOS and Android gives you the freedom to live your life and conduct your business on your terms. Orion180 is constantly innovating solutions that empower you to Do More, Be More, and Give More. Welcome to the future. Welcome to freedom.
Orion180 is consistent in our commitment to simplifying the insurance game- both for our partner agents, and for homeowners. The MY180 App offers convenient policy management tools and payment features that allow you to easily access your policy and adapt it to your needs. 
It's the fastest quoting portal in the industry. Quote to Bind in just a few minutes. It's time-saving technology so you can focus on new business generation.
MY180 empowers you with complete underwriting and binding authority. You don't have to wait hours or days on carriers underwriting resolutions.
MY180 offers industry leading competitive pricing so you can reach more homeowners.
The system gives you access to various product lines, all in one convenient location, allowing you to offer your clients customizable coverages based on their wants and needs.
Real-time underwriting allows you for faster response times to your insureds and referral partners.
MY180 includes an easily accessible, and ever-growing, document library that includes guidelines and reference materials for your day-to-day business.
Personal Lines INsurance Agents
Submit an HO3 Quote in less than 4 minutes
Bind the policies in less than 2 minutes
View quotes and download policies
Search all your policies and add policy documents
Access and download your homeowner's policy
Make a payment and view billing information
Submit a claim
Contact Us